Overview
A spool of GORE® Gasket Tape Series 500 provides an immediate, cost-effective solution to sealing challenges that demand reliable performance and extended durability. This advanced product, with its industry-leading creep resistance, is designed to maximize the operational reliability of large steel-flanged applications, especially those with thermal cycling.
Applications
Large and/or non-standard steel equipment flanges:
Vessel and tank process flanges & manways, large diameter piping, heat exchangers, baffles
Processes utilizing highly-aggressive media, in:
Chemical processing
Pulp and paper manufacturing
Mining and minerals
Semiconductor manufacturing
Power generation
WHAT MAKES GORE GASKET TAPE SERIES 500 SO ADVANCED AND VALUABLE?
Proprietary technology that outperforms other ePTFE gaskets
GORE® Gasket Tape Series 500 is made of 100% expanded polytetrafluoroethylene (ePTFE), using a proprietary Gore manufacturing technology that delivers exceptional sealing reliability, especially on large and irregularly shaped steel flanges.
Because of its internal structure, GORE Gasket Tape Series 500 excels at resisting cold flow and creep. Tests prove GORE Gasket Tape Series 500 is nearly twice as effective at resisting creep than other brands of ePTFE tapes.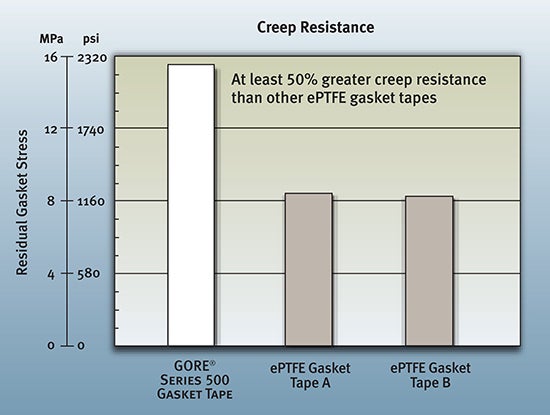 Optimal Form and Functionality
GORE® Gasket Tape Series 500 is a high-performance form-in-place gasket tape – from Gore, the company that invented that product category 40 years ago. It forms to fit any shape, instantly. It is so easy to handle and install, that even large flanges are a one-person job.
GORE Gasket Tape Series 500 is also highly conformable, compensating for considerable flange irregularities. The resulting seal is both very tight, and very long-lasting, enhancing overall system reliability and safety.
Made of chemically inert 100% ePTFE, GORE Gasket Tape Series 500 durably withstands the rigors of harsh chemical processes. It resists all process media (pH 0-14) except molten/dissolved alkali metals and elemental fluorine. Versatile enough for use in strong alkali-, acid- and solvent-based process systems, GORE Gasket Tape Series 500 is a single solution to multiple gasketing needs.
Save Time, Money and Trouble
GORE Gasket Tape Series 500 delivers significant advantages, both onsite and offsite.
It eliminates the lag time, costs and complexities associated with engineering, specifying, procuring, shipping, storing and installing traditional one-piece prefabricated gaskets.
Series 500 delivers exceptionally reliable sealing performance, while making multiple gasketing installations faster, more cost-effective and simpler.
The Beacon Gasket & Seals Co. technical sales team is here to help you find the right gasket for your application,  deliver as promised today and in the future.  Send us your inquiry today.